Maths
Intent:
At Sinnington Primary School our intention is to provide a curriculum which caters for the needs of all individuals and sets them up with the necessary skills and knowledge for them to become successful in their future adventures. We aim to prepare them for a successful working life by incorporating sustained levels of challenge through varied and high quality activities with a focus on fluency, reasoning and problem solving. Our curriculum mirrors the intentions of the Mathematics National Curriculum by ensuring that all children:
Become fluent in the fundamentals of mathematics, including through varied and frequent practice with increasingly complex problems over time, so that pupils develop conceptual understanding and the ability to recall and apply knowledge rapidly and accurately.
Reason mathematically by following a line of enquiry, conjecturing relationships and generalisations, and developing an argument, justification or proof using mathematical language.
Can solve problems by applying their mathematics to a variety of routine and non-routine problems with increasing sophistication, including breaking down problems into a series of simpler steps and persevering in seeking solutions. Mathematics is an interconnected subject in which pupils need to be able to move fluently between representations of mathematical ideas.
Our intent for Maths is:
• To provide a clear sequence, building on children's prior knowledge and skills
• To ensure that children achieve Mastery in Maths in a safe and happy environment
• That children will try hard when learning becomes difficult, through a creative and child-led approach
Implementation:
In our Mastery approach, children are required to explore maths in depth, using mathematical vocabulary to reason and explain their workings. A wide range of mathematical resources are used and pupils are taught to show their workings in a concrete, pictorial and abstract form wherever suitable. They are taught to explain their choice of methods and develop their mathematical reasoning skills. We encourage resilience, adaptability and acceptance that struggle is often a necessary step in learning. Our curriculum allows children to better make sense of the world around them relating the pattern between mathematics and everyday life. Maths Mastery consists of the four components: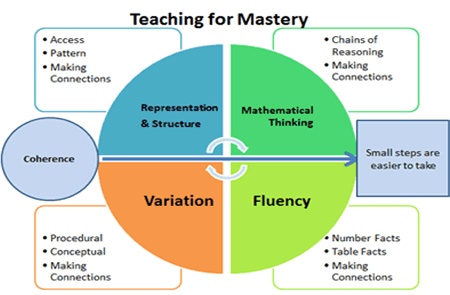 EYFS:
In EYFS, maths is taught through a number based approach. In Nursery, children sing number songs and engage in short, focussed sessions with adults. In Reception, children explore a wide range of concepts such as 1 more/1 less, addition, subtraction, shape, money, time and measure for a given number over a 2-week period.
Adults use resources that deepen children's knowledge and there are opportunities for reasoning and problem solving through adult questioning both in taught sessions and in play. Throughout EYFS, there are regular and frequent opportunities for exploring with numbers as well as shape space and measure in the areas of provision, where adults regularly encourage and model mathematical concepts. Planning and resources are adapted from the White Rose Maths scheme.
KS1 and KS2:
The CPR Model uses a structure developed over the week with regular revisiting and over learning to create a deeply embedded understanding of all areas of maths.
The model consists of:
Conceptual Understanding: A focus on the mathematical concept and vocabulary acquisition
Procedural Fluency: Practicing the concept in a variety of representations.
Reasoning and Problem Solving: Applying the understanding of the concept and procedure, to confidently reason and solve problems.
The CPR model allows opportunities for children to achieve a greater depth of proficiency, as well as offering repeated opportunities for struggling learners to address misconceptions. Our lessons are adapted from the White Rose Maths scheme with additional resources adapted from a range of sources to ensure the correct amount of challenge is present in each lesson.
Arithmetic
In Dahl and Rowling Classes, MiniMaths is completed first thing every morning which focuses on arithmetic style questions and enables children to consolidate and embed prior learning which in turn develops their recall and arithmetic skills over time.
Maths Scheme of Learning Reception 2022-2023
Maths Scheme of Learning Year 1 2022-2023
Maths Scheme of Learning Year 2 and 3 2022-2023
Maths Scheme of Learning Year 4,5 and 6 2022-2023
Maths Skills Progression Document based on The White Rose Maths Scheme
Maths Vocabulary Progression Document EYFS - Year 6